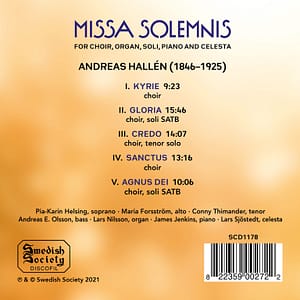 Andreas Hallén (1846-1925) was one of the most important figures in Swedish musical life from 1870 until his death. He was known contemporaneously as an orchestral, opera, and choral conductor in Gothenburg, Malmö, and Stockholm, as well as a critic and ultimately as professor in composition.
After studies in Germany as a young man he had major successes as a composer both in Sweden and internationally. He was a regular correspondent of Franz Liszt, and many of his compositions were published and performed outside of Sweden. He operas inspired by Wagner's musical dramas, as well as many choral and orchestral works.
His musical language is high Romantic with strains of National Romanticism. Missa Solemnis is characterized both by operatic grandiosity as well as a more delicate style appropriate to sacred music.